I LUMINOSITY UVC GERMICIDAL INDIRECT ARCHITECTURAL
I-Luminosity UVC-280nm Germicidal Indirect Architectural Fixture Engineered to Operate Safely, Effectively and Efficiently, Without Adversely Effecting Your Immune System, 24 x 7 x 365. Operating Indirectly Overhead, Providing "Umbrella Like Protection" From Aerosol Viruses, Germs, Molds, Odors, and COVID / SARS, Human Pathogen Transmissions. Excellent Chemical and Maintenance Free Solution, Designed to Last Effectively, an Average of 50,000 Hours. Ideal for Conference Rooms, Office Areas, Dental / Medical Offices, Out-Patient Short Procedural Units, Radiology Units, Laboratories, Clean-Rooms, Sterility Suites, Waiting Rooms, Commercial Kitchens, Food Processing, Commercial Buildings, Restaurants, Banquette Halls, Gyms, Transportation, Shipping, Public Restrooms, Locker Rooms, Trash Rooms, Loading Docks and Much More.
They units are approximately 48″ L x 3.5″ H x 2.5″ W Can Be Pendant Ceiling Cable Hung, or Concealed Wall Bracket Mounted, or Cloud Soffit Mounted. Or in Seamless Integrated Architectural Geometric and or Tandem Lineal Mixed Type B, With or Without UVC Indirect.
Creating Truly Integrated General Lighting SMART Daylight Harvesting Combination Configuration. They are extremely Efficient Low Power Consumption LED. Currently There Are 2-Two Models in Several Colors (Custom Colors / Configurations Are Available For Large Quantity Orders);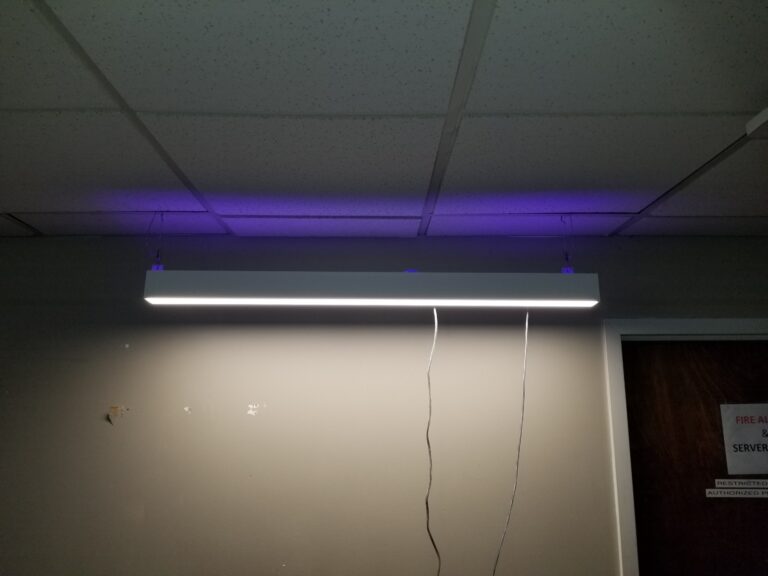 How UVC Germicidal Discrete Overhead Technology Works
Need to discuss a special or complex project, confidential property evaluation, needs assessment, require budgetary cost projections or need to meet a complex facility compliance or performance requirement ? Give us a call, provide your requirements, we strive to provide our clients with realistic, efficient and effective solutions.